This is a back dated blog, but I remember this day as if it was yesterday. For some, this award may not be as meaningful. For me, I often forget to mention it, but it's absolutely something I'm extremely proud of.
I've wanted to be a "Master Craftsman", since the day I realized it was something. I started working in clay in March 2000 on the suggestion of a friend, when I was whining about being too bored. It was just going to be something that kept me busy one night a week, out of the house, and scratched the creative itch. I never thought I'd ever have my own studio or accomplish much else besides having some ceramic pieces around the house.
It didn't take long for it to become a passion.
Fast forward 18 years and I applied to be evaluated by the PA Guild of Craftsmen. I applied, paid my fee, and waited. Then, I received an email letting me know that they will review my work on 4/24/2018. Immediately I was like, "what the EFF did I do? Why do I need to do this?" I don't remember when I got the email, but it was a few weeks leading up to the date. I immediately had my doubts. But, this recent body of work was strong, and I figured, I would at least get some constructive criticism from people who are Masters of their own craft.
I don't own a car. I use Philly Car Share (now Enterprise, ptoy, ptoy). So, I rented top of the line; Audi A4. I was going to pamper myself all the way up there. I had the selected work, packed tightly, in the car with me. I selected pieces that I remembered making, excited me, and were perfect. Two that swung left, two that swung right, and a bottle.
I arrived an hour ahead of my time and was greeted by a friendly gentleman in the store. He told me where to take my work; up a flight of steps. Why, I thought, did I have to fall in love with a craft that weighed so much? I saw a few people and asked them what I should do. There was a familiar face, Pam Cummings, a potter whose work is in my house. She's always been a friendly person. I relaxed a bit. They guided me to a large room, with a stage. It reminded me of my local church's gym, and instructed me to set my work up: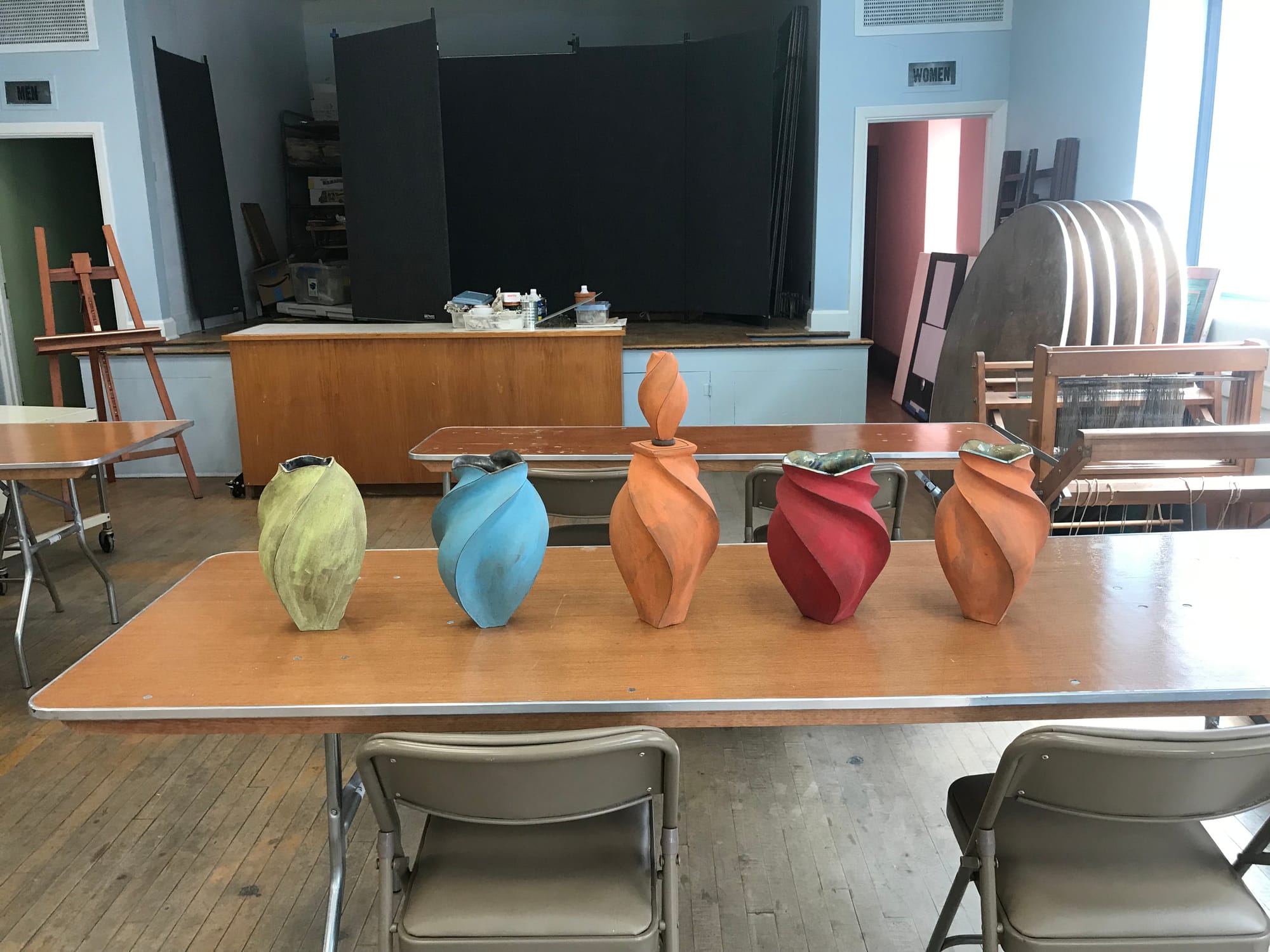 I was then ushered to back to a room I originally saw Pam, with another artists, and was told they would come get me when they were ready.
They came to get me and walked me back to the room where my work was set up. As it turned out, other artists also set their work up. I was introduced to the jury, Paula Davis and Pam Cummings being the only two I remember. I'm HORRIBLE with names and takes me a few times to talk to someone before I remember them. They asked me to talk about my work.
I told them my interest in pushing my forms. I like the flow, movement, shadows, and joy I get from the frustration and sometimes tedious process. They told me I could leave. They had my number and would call me in about an hour to let me know what they decided.
I left. I was hungry, so I found a great spot at the end of the block that had an endless cup of coffee, and some good eats. I sat down. I was so nervous. Coffee was not a good idea, but that didn't stop me from drinking two cups. I texted with my friend, Julia, who I was supposed to meet afterwards. I hadn't seen her in 40 years. I texted with my friend, Paige, who I have known since college. It was two days before her birthday and since she lived close (York, PA), we were going to get together. I went on Facebook. I read news. I looked at Instagram. I went back on FB. I watched more news. I scrolled through my email. I paid my bill and went for a walk around Lancaster. It's a great place. It's immaculate, quiet and filled with very nice people. The end of the hour was quickly approaching, so I went back to the restaurant and had another cup of coffee! Nuclear energy had nothing on me at that point. An hour came and went. An hour and 10, 20, 30 minutes. Oh man... I figured they were saving me for last because they wanted to have a long talk with me about my work. They had a lot to critique and didn't want to be rushed. They probably wanted me last in case I made a scene because they didn't award me. I wouldn't. I like my work to be the center of attention, not me. One hour 45. One hour 55. TWO hours... Oh gawd, this must be awful. Finally, two hours and 11 minutes later, Paula called me; "Peter. Would you like to come back and discuss your beautiful work?". No. Even after 18 years as an artist, I still don't like rejection. Actually, all I said was, "sure". I walked back. Climbed the stairs and started walking to the back room, the death march playing in my head. Pam came out from the other room, greeted me, put her arm around my shoulder, and said, "we have a few things we want to discuss with you". My heart sank. I definitely didn't get it. She then smiled and said, "Oh, btw, you've been awarded Master Artisan". Aaaaahhhhh! OMG, OMG!!!! I was jumping up and down, screaming at the top of my lungs... All in my head! I simply said, "Oh! That's great. Thank you".
Pam had a few suggestions which she nervously delivered. I always listen to constructive criticism. She kept saying, "these are only suggestions". They must have had some serious ego cases who really pushed back. Her suggestions were good. I listened. We hugged. I packed up my work, and schlepped it down those steps. It was over.
I am really proud of this accomplishment. I'm not formally trained. I've gotten here by asking a lot of questions from other generous and kind potters, reading, looking at other people's work, and most of all by spending countless hours in the studio working, making mistakes (or lessons), and following my instincts and heart. I now felt I had a responsibility to continue to push myself harder and further.